THE CRM WITH MEMBERSHIP BUILT IN
Welcome to Pipeline Connect, a smarter CRM that comes with targeted membership leads for your club.
CLUB RELATIONSHIP MANAGEMENT
Pipeline CRM brings best-in-class customer relationship management to membership clubs, and empowers membership professionals to do more of what they love: building relationships with prospects and members.
A Pipeline of Membership Leads
No need to buy lists or send direct mail. Pipeline's lead generation services feed a continuous flow of targeted, marketing qualified membership leads into Pipeline CRM.
And, there's a pipeline for member referrals, too.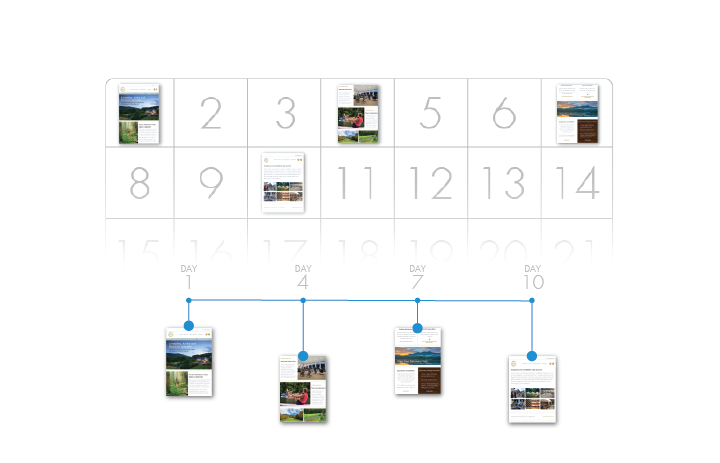 We go further than any other CRM platform in empowering club membership professionals to intuitively guide prospects through the new member onboarding process.
Build your own, or let us help you design and implement a custom onboarding experience that will turn your new members into raving fans.
Send Beautiful, Smart Communications
Draw from our library of club-specific email templates, or use our drag-and-drop communications builder to design your own eye-catching emails.
With conditional content, you can send smarter emails that adapt your messages to member demographics, interaction history, or web page visits for truly personalized messages.
WE GAVE CRM A BRAIN
A CRM should be much more than a data warehouse. Thanks to powerful new AI and automation technology, Pipeline CRM empowers membership professionals to spend less time entering and manipulating data, making it easier than ever to put the "relationship" back in CRM.
Every touchpoint is an opportunity. Pipeline CRM helps clubs maximize each opportunity with engagement tracking that alerts when prospects and members open important emails, click various links, and track behavioral actions on your web site.
You can also connect to their social profiles to show their interests, and track their location and travel history using mobile geolocation.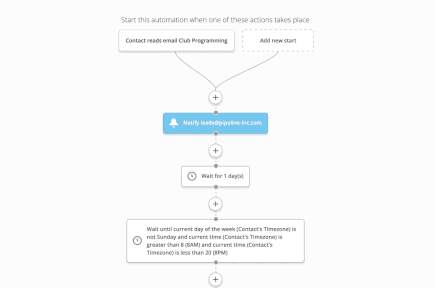 Pipeline CRM listens and learns. Every touchpoint is used to help inform future communications, which can be sent auto-magically.
This means prospects and members receive personalized communications, at the right time, tailored to their desired experience.
Capture the "high-hanging" fruit.
Pipeline CRM includes a scoring system that assigns points to each prospect and member based on various engagement factors that help prioritize follow-up tasks and reveal valuable insights to optimize future marketing, communications and member retention.